CodeDiver
1.0.2
Various setup of PEG-NX 60/70V is extended using the extended function of OS5.
Last update
20 Mar. 2006
Licence
Free to try |

$10.87
OS Support
Mobile
Downloads
Total: 401 | Last week: 3
Ranking
#17 in Utilities
Publisher
Hiroaki Imazeki
CodeDiver Publisher's Description
CodeDiver
CodeDiver is the program for PEG-NX60/70V which changes operation of an application program from the exterior using the extended
function of OS5. The following items can be set up. The following items can be set up.
Font replacement in the field.
The mask of a jog assistant function.
The simple macro function at the time of application program starting.
Moreover, although a screen flickers, it is also possible to set up false wallpaper.
When a setup is changed, the application which becomes unstable also has operation and it may become the situation which carries out worst hard reset. So you need to backup all data using MSBackup or other apps before testing.
Sample Screen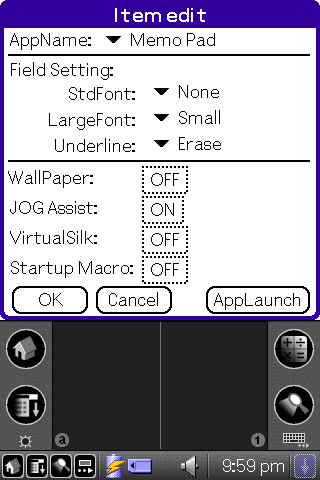 If replacement of a filed font is specified by CodeDiver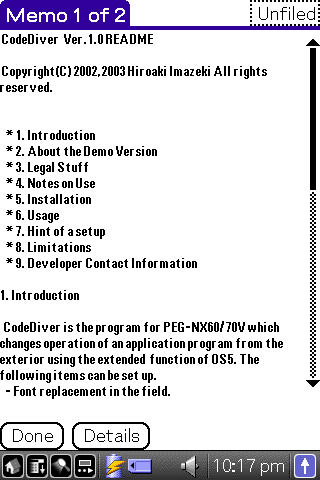 It is displayed using a small font.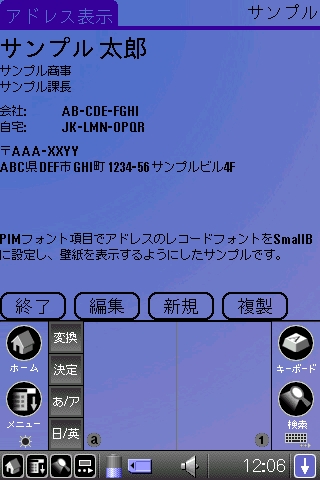 Wallpaper + silk area display screen.
It is the example which overlay blue(R=0:G=0:B=99) on JPEG of a sample at 50% of transmissivity and which generated the silk skin by Type2 frame.
* Although the "Adress" screen is operating in 16 bit color, since it usually operates in 8 bit color, a picture becomes rude in that case.
* A screen flickers in fact again at the time of re-drawing.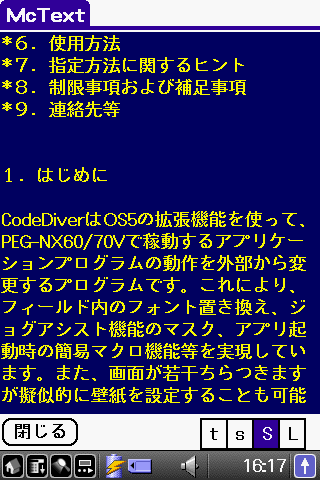 FontDiver is a tool for Japanese fonts. Although not supported in an English device, it is the example which import in J-OS for Tungsten font.
You can try out this demo version for 30 days after CodeDiver, WPDiver, or FontDiver being initially installed in your PalmOS device.

*Notice before payment.......
The CodeDivver interrupts the internal process of PalmOS, and changes font sizes,wallpaper and etc.. So, there are some application that cannot work well with CodeDiver. And I have no assurance for working on the future PalmOSes and applications, too.
[To unlock demo]
You can download key file after purchase.
Install it over demo, then you can get full function.

A registered user can update by downloading the trial version.
*If some previous versions have already been running, you must stop them before installing this version.
Requirements:
SONY CLIE OS5.0 (high resolution)
Look for Similar Items by Category
Feedback